Briefing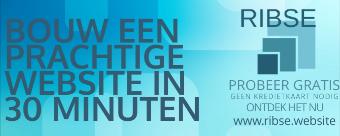 RIBSE is een all-in-one website bouwer waarmee je in 30 minuten een prachtige website of webshop bouwt. Voeg door middel van DRAG&DROP foto's, teksten, designs en pop-ups toe. Wijzig kleuren, vergroot of verklein objecten. Noem het en voer uit. Kortom: prachtige website in een mum van tijd waarmee je een hoop geld bespaart!
Voordelen van RIBSE:
All-in-one website bouwer
Bouw een prachtige website/webwinkel in 30 minuten
Geen kennis nodig van codering: drag & drop alles wat u kiest, het hele systeem is DRAG&DROP, slepen en neerzetten, kleuren wijzigen, foto's aanpassen en uw website staat online.
Laat snel uw zaak groeien: betaal geen dure webdesigner, doe het zelf met het RIBSE platform.
Iedereen kan RIBSE 14 dagen gratis testen en zelfs langer :-). Indien bezoekers beslissen om een gratis account aan te maken en RIBSE uit te testen, kunnen zij ook een livechat aangaan met voor al hun vragen. Bij ons hoef je geen kredietkaartgegevens doorgeven bij aanmaak van een gratis account. Je kunt het ook zelf uit testen en ondervinden hoe gemakkelijk RIBSE werkt. RIBSE is inclusief website - webshop - blog - CRM - online booking - verkooptrechters.
Een familiewebsite of blog start reeds vanaf €9/maand. Een volledige website inclusief webwinkel, online booking, Crm en verkooptrechters €49,50, maar daartussen kan je ook kiezen voor een goedkoper pakket. In alle paketten is een blog inbegrepen.