Briefing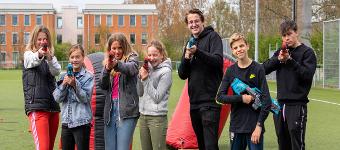 Lasergamesethuren levert jou de beste en leukste lasergame set van Nederland. Wij leveren onze diensten op huurbasis en helpen jou graag om een lasergame event op te zetten. Lasergame op eigen locatie of als kinderpartijtje het is allemaal mogelijk bij lasergame set huren. Daarnaast hebben wij ook sets voor volwassenen beschikbaar waarbij het een ideale activiteit is om bijvoorbeeld mee te team builden.
Bij een lasergame huren zit je niet vast aan één spel, je kan verschillende spelvormen gebruiken. Het basisspel is het bekendst, daarnaast zou je team Deathmatch, Capture the Flag en Infected kunnen spelen. Deze spellen zijn allemaal teamspellen en zullen voor veel plezier zorgen. Lees hier alle verschillende spelvormen.
Lasergame thuis kan makkelijk door lasergame te huren. Je kan door het huren van lasergame overal lasergamen waar je wilt. Waar je wel aan wilt denken bij een locatie is of er objecten zijn waar de spelers zich achter kunnen verschuilen. Lasergame kan thuis, op een boerderij, in een gymzaal, op school, op kantoor of in het bos. Voor iedere doelgroep is wel een gepaste locatie. Lees hier over alle verschillende speelplekken.