I love to create video's surrounding the topic beauty. I try challenges or give tips and show people how to do certain looks. I also like to have fun and sometimes show some of my other hobbies, like baking or painting. It's a safe space for teenagers and young adults to have fun and talk about beauty and a lot more.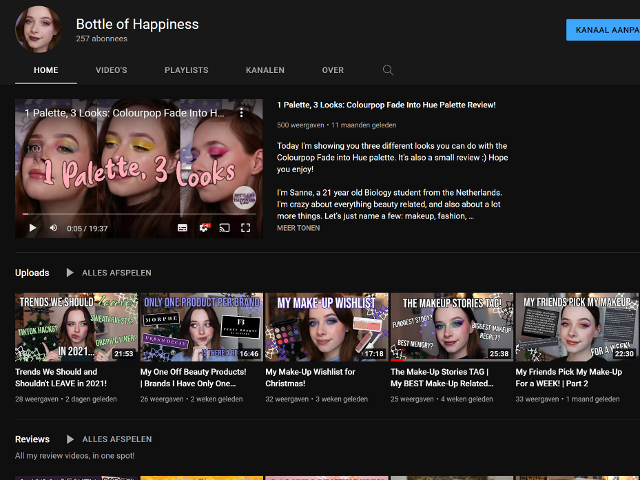 I'm Sanne, 22 years old, and I'm a biology student at the Radboud University in the Netherlands. I am crazy about make-up and fashion and I love being creative with those hobbies. I enjoy writing and video editing and I'm open to a lot of things, as long as I can put my creativity into them.
Statistieken
0 - 1k
Bereik
(subscribers)
Views
Gemeten in de vorige maand
Gemiddeld aantal acties
Gemeten over de laaste 50 posts
(comments/likes/dislikes)
Engagement ratio
Gemeten over de laaste 50 posts
(activiteiten ÷ subscribers)
Geverifieerd
De gegevens van dit kanaal worden door LinkPizza gecontroleerd en elke maand automatisch geüpdatet.